Protected Acess Security Systems, Inc. is a certified VACUFLO dealer. VACUFLO features Cyclonic Filtration Technology® (CFT™), a unique dual filtration process that utilizes cyclonic separation for primary filtration. Unlike central vacuum systems that rely on permanent cloth filters, the powerful performance of VACUFLO will not decrease as dirt accumulates.
Redefining Vacuums for Healthier, More Convenient Living
Central vacs don't stir up dirt and dust and recirculate it around your home … they remove it for good. Create a healthier living environment and have more time to spend with your family with the quick-clean convenience of a central vacuum installed by Protected Access.
Indoor Air Quality Matters
Nothing is more important than the air we breathe. The American College of Allergists reports that 50% of all illnesses are caused by, or aggravated by, polluted indoor air. Improving the indoor air quality in your home is essential to create a healthy living environment for you and your family.
Here's what leading organizations are saying about the health benefits of central vacuums:
"Using central vacuum systems that are vented to the outdoors can significantly reduce dust mites, pollens, animal dander and other allergy causing agents."
– US EPA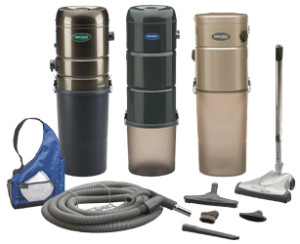 "Central vacuums are among the best indoor air quality investments for your home."
– BUILDER Magazine
"The healthiest type of vacuum to operate is a central vacuum that is vented outdoors."
– The Healthy Home Institute
Central vacuum systems need a balance between maximum air movement and effective filtration to guarantee high performance cleaning. Bags and filters can clog quickly and reduce airflow and vacuum power. The filtration method of Cyclonic Separation delivers the highest sustained cleaning performance because the dirt is removed from the airflow without restriction.
True Cyclonic Power Units
VACUFLO True Cyclonic Power Units provide sustained cleaning power by separating the dirt from the airflow without the use of bags or filters! The powerful cleaning performance will not decrease as dirt accumulates.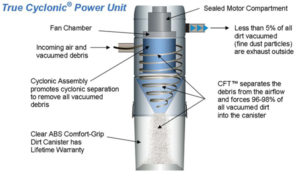 True Cyclonic is our tried and true power unit- bagless, filterless and a work horse of a central vacuum. With a 6-gallon dirt canister and the unit being exhausted outside the home, minimal maintenance is needed throughout the year. It is suggested that every 4-6 months, empty the dirt canister and clean the permanent filter screen to promote maximum air flow to the motor allowing for consistant power and worry-free operation each and every time you vacuum.
Experience VACUFLO®'s exceptionally powerful central vacuum performance and cleaning versatility with a wide variety of cleaning
kits, accessories and powerheads. These accessories are specifically designed for today's home furnishings, and can clean all
interior surfaces − hard-surface flooring (wood, tile, marble, vinyl), all carpet types and rugs, walls, ceilings, draperies, upholstery and much more!
No heavy equipment to lug around, no cords to trip over or catch on furniture, no clunky unit nicking the furniture and woodwork as
you move from room to room. Lightweight hoses and attachments are easy to carry. Convenient outlets placed to your specifications allow quick and efficient cleaning.
Hide-A-Hose
Hide-A-Hose is a space-saving retractable hose system that stores up to 50 feet of central vacuum hose in the tubing within the wall.
With the Hide-A-Hose system, you simply pull out the length of hose needed for the cleaning job, connect a TurboCat powerhead, and begin vacuuming. When finished, the system uses the suction from the central vacuum power unit to retract the hose back into the PVC tubing installed within the walls of the home.

Since each inlet valve has a hose stored within the tubing inside the walls, longer hoses can be used (one hose can cover up to 2,300 square feet), reducing the number of inlets required for whole-house coverage.
No more carrying the hose up and down stairs or from room to room. All you carry is the lightweight hose handle, wand and cleaning tool!
A central vacuum cleaner offers numerous benefits over a traditional portable vacuum cleaner. Before you buy another portable vacuum cleaner, take a look at the benefits of central vacuums.